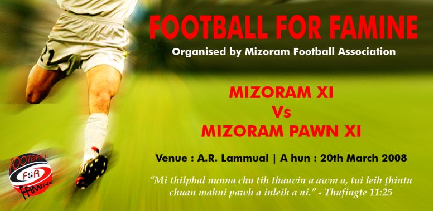 Full size banner:
football_famine_banner.jpg
Football For Famine
Organised by Mizoram Football Association
PRESS HANDOUT
Mizoram sawrkarin zirlaite chawhnu chawlh puang
Aizawl 19, March: Directorate of School Education chuan vawiin chawhnu khan thuchhuah siamin Football for Famine 2008 AR Lammuala 20, March 2008 2 PM a khelh tura Mizoram Football Association in a ruahman chu thlirin sikul naupangte tan chawhnu lam chawlh a puang a, he football match en hman tur hian an chhuah a phalsak a ni.
TUAITEA LO THLENG

Aizawl 19, March: Mizo footballer zinga thleng sang berte zing ami PC Lalawmpuia, tuna Mohun Bagan a khel mek chuan vawiin khan Football for Famine charity football match khel turin Kolkata atangin Aizawl a rawn thleng.
PC Lalawmpuia, Tuaitea tia hriatlar hi a thiante chawlh tawh hnuah pawh ama khelhna club bikin match pawimawh an la neih avangin Aizawl a rawn thleng chho ve lawk thei lo. Mahse he football match hi a ngai pawimawh a, a ball pet avanga Mizoram hmun hrang hranga tam tuarte'n ei tur an neih theihna tur alo nih theih tak hlauhvin tiin Aizawl a rawn pan a ni.
Aizawl hospital inpekna
Aizawl 19, March: Aizawla private damdawi in tha berte zing ami Aizawl Hospital chuan Football for Famine tan an theih tawka tha thawh ve duhin he match khelh chhung hian medical team, emergency first aid pe thei tur an rawn thawh chhuak dawn a ni.
ZAITHIAM ZAI TURTE
Aizawl 19, March: Zaithiamte pawhin tam tuar tan chuan tiin an theih ang anga ke rawn pen chhuah an tum a, kan top artistes te'n kalkhawm mipuite football khelh hma leh chawlh lailawk laiin an awi dawn a ni.
Mizo Idol a che tha tak tak pahnih Mathlenga leh Alex-a te chuan an hla chuam an rawn vawrh chhuak dawn a, Youth Icon star Mimi Lalzamliani pawhin a hla hmanthiam rawn thlawhchhuah pui ngei a tum. Mimi hian he hun hmang tur liau liau hian a zinna hmun atangin Aizawl a rawn pan dawn a ni.
"Kan theihtawp chhuaha Pathianin aw min pek hi kan unau riltama awm mekte tan kan hman a ngai a, kan khawvel tawn mek hian min ko a ni," tiin Mathlenga leh Alex-a hian a sawi.
Gnat Lalrinchhanna leh Gracy VL Pachuau te chuan he ni atan liau liau hian inkawpa zai an tum a, khawvel inpumkhatna hla lar "Hand in Hand" sak tumin an inpuahchah fel diam tawh a ni. "A thu nen a inmil hlein kan hria a, hun harsa ber kan tawh laia kut insuih a, rilru hmun khat pua hma kan lak tlan a ngai a ni tih thuchah hla hmanga puanna a ni a, he hla hi Sap hla ni mah se a thuchah ken hi mipuite'n a nihna ang taka an dawn ngei kan beisei tlat a ni," tiin Gnat Lalrinchhana chuan a sawi.
Thanks to Sangzuala Hmar for the press handout and banner.
Similar Posts:
Recent Posts: